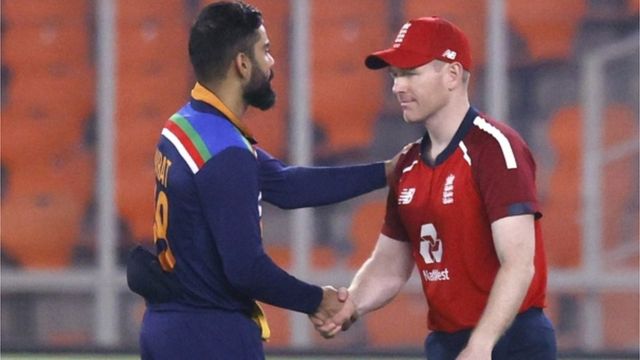 The three-match bilateral ODI series between India and England starts on Tuesday.
All the three matches of the series will be played at the Maharashtra Cricket Association Stadium in Pune. In its first match on Tuesday, England won the toss and asked India to bat first.
In today's match, two players of India are starting their ODI careers.
The right-arm fast bowler Krishna, along with Hardik Pandya's brother and all-rounder Krunal Pandya, has been given the cap of the Indian team.
Before the match, Indian team captain Virat Kohli said that Rohit Sharma, Shikhar Dhawan and after him Shreyas Iyer will be sent to bat at number four while KL Rahul will be sent to bat at number five.
Hardik and Krunal can come at number six and seventh. In the team, along with Shardul Thakur, Bhuvneshwar Kumar, the famous Krishna has been given the responsibility of fast bowling. Kuldeep Yadav has been given the place as the spinner.
England captain Eoin Morgan said that Sam Billings, Tom Curran and Moin Ali are making a comeback in their team. Jofra Archer is not playing in this match due to injuries.