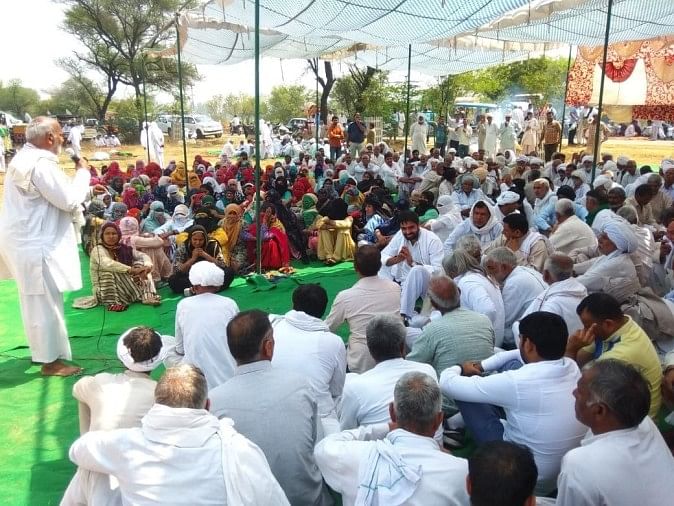 Jhajjar The annual festival of Gurukul Mahavidyalaya has started on Saturday. Till now, no minister, JJP and BJP leader has reached the Gurukul College. The programs of ministers and leaders have been canceled. As part of a pre-determined program of showing black flags to ministers, JJP and BJP leaders on behalf of Sarva Khap Panchayat, farmers have been sitting in tents on the road leading to Gurukul.
The Gurukul college management had already been requested to cancel the program on behalf of the panchayat held five days ago in Silani. But the Gurukul college management did not cancel the program. A Panchayat was already organized in Silani village to protest against the JJP and BJP leaders and it was announced that any JJP or BJP leader or minister would be shown black flags if he came to the Gurukul festival. In this program, the farmers reached the road leading to Gurukul with a tractor trolley at the scheduled time. Tight security arrangements have also been made by the police administration. A large number of police personnel have been deployed at the gate of Gurukul College.
These leaders were expected to come to the Gurukul
Gurukul management invited Deputy Chief Minister Dushyant Chautala, Power Minister Ranjit Chautala, Agriculture Minister JP Dalal, Sikar MP Swami Sumedhanand, BJP State President OP Dhankhar, Minister of State for Social Justice Om Prakash Yadav and Rohtak MP Dr Arvind Sharma. But no leader reached here on Saturday.
We had already informed Gurukul Acharya. After the Panchayat held in Silani village, the delegates went to Gurukul and said that the program should be canceled and JJP and BJP leaders coming here will be opposed. But Acharya did not change his decision. In protest against which, on Saturday, tents have been started here by putting up tents. Whoever comes here, be it BJP or JJP, will be opposed and black flags will be shown.
- Jitendra alias Babla, farmer leader.