Malaika Arora has become a copycat. She has worn the same outfit as Jacqueline Fernandez for Amrita Arora's party.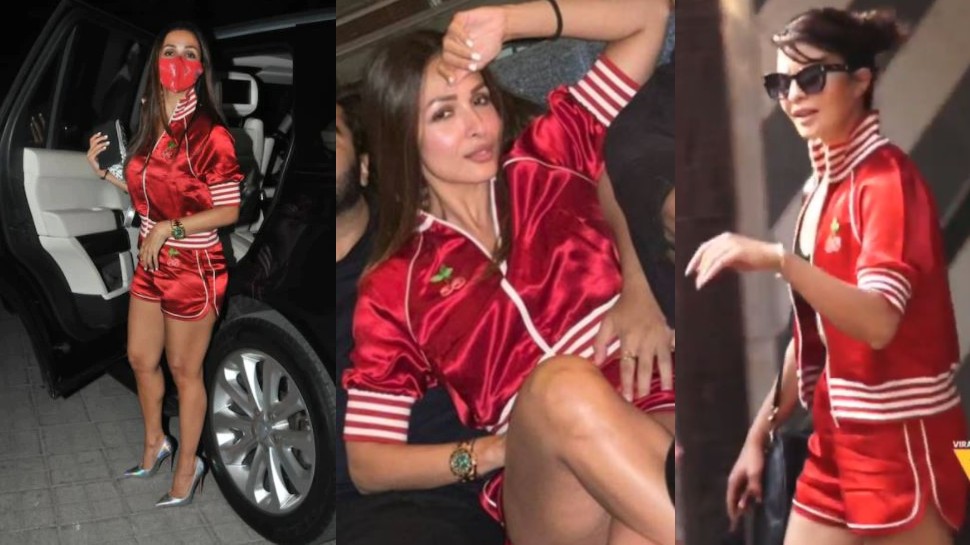 Last night Malwaika Arora has been seen in the streets of Bollywood. Actually, a colorful party was organized in Bollywood yesterday. This party was hosted by actress Amrita Arora. Amrita Arora's house house party was hosted, which was attended by many big stars of the industry. In this party, who looted all the limelight, they were Bollywood's love-struck couple Malaika Arora and Arjun Kapoor, but we will tell you that the always refreshing Malaika copied Jacqueline Fernandez this time. did.
Malaika copied Jacqueline
A few days ago Jacqueline Fernandez was also spotted outside the gym in a bean track suit. Now the same red track suit Malaika Arora has taken to the party. Although Malaika is a fashion diva, this time Malaika has been caught stealing. His and Jacqueline's outfits are exactly the same. You can also see the clothes of both of them in two different videos.
Such is the style of both
Where Malaika Arora closed the upper chain of the track suit. At the same time, Jacqueline Fernandez has worn it openly. Now you can decide who has worn it better by looking at the style of both of them.


Amrita hosted the party
Talk about the party, Amrita Arora often hosts a house party. Karan Johar, Natasha Poonawala, Manish Malhotra and Karishma Kapoor were seen as Amrita's guests at the party held on Wednesday night. His party pictures are becoming fiercely viral on social media.
The couple lives in the headlines
Let me tell you, Malaika Arora is often in the headlines. She is often spotted with Arjun Kapoor. The power couple also reached Amrita Arora's party and also posed to the media. Let me tell you, Malaika wore a track suit of high silver heels and red color at the party, in which she looked quite glamorous. In addition, he also carried its silver vest pouch.