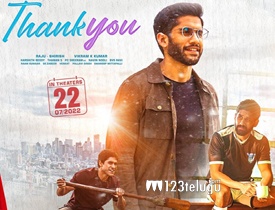 Release Date : July 22, 2022
123telugu.com Rating : 2.25/5
Starring: Naga Chaitanya, Raashi Khanna, Malavika Nair, Avika Gor
Director: Vikram Kumar
Producers: Dil Raju, Sirish
Music Director: Thaman S
Cinematography : P. C. Sreeram
Editor: Naveen Nooli
After Manam, Naga Chaitanya and Vikram K Kumar have teamed up for yet another movie called Thank You. The film has hit the theaters today. Let's see how it is.
Story
Abhiram (Naga Chaitanya) is the most successful businessman in the US corporate world. But his self-centered and egoistic nature distances everyone from him including his own girlfriend(Raashi Khanna) One day, a very emotional incident makes him realize that he should express gratitude to those who helped him during his tough times. So, he takes up a journey and goes back to the people and thanks them individually. How does he do that is the story of the film.
Plus Points
The story is simple with no twists and turns. It's all about the life of an egoistic businessman and Naga Chaitanya showcases solid variations. He gets to don various phases of his life and plays all these roles with ease and we need to appreciate him for portraying these different shades superbly.
Raashii Khanna looks beautiful and she also performs well in her mature role. Other heroines Malavika Nair and Avika Gor also give their best. Malavika and Chay's track is quite good.
Despite playing small characters, Prakash Raj and Sampath perform well. Director Vikram K Kumar handles the visuals well as they are one of the best aspects of the film.
Minus Points
The key problem is the story. Audiences are very familiar with these kinds of stories for quite sometime now. Thank You is an emotional journey of a person but those emotions are not carried out well on screen. Rather the film showcases flashbacks of school and college which look mundane and boring.
The screenplay is a big letdown as Vikram Kumar's mark is completely missing here. The drama could have been a lot better as one can easily predict what is going to happen next. It is old school and beaten to death.
Love scenes between Naga Chaitanya and Raashii Khanna could have been shown in a better manner. The second half is a big minus as it is filled with scenes which have lag and will not suit the sensibilities of today's generation. They could have been trimmed for better narration.
Moreover, Thank You doesn't have any mass fights, chartbuster songs, and thrilling elements to entertain the majority of audiences. During the promotions, the team said that the film has a bunch of Mahesh Babu's references. But, those scenes are also not much impressive.
Technical Aspects
Vikram K Kumar is a successful director and usually, the expectations are high. But, the magic in his previous movies is missed in Thank You. The director fails to narrate the emotional journey interestingly and engagingly. PC Sreeram needs to be appreciated for his wonderful cinematography. The visuals look great in many scenes.
Coming to music, Thaman's music is hugely disappointing as none of the songs make any sense. Editing by Naveen Noli could have been better and he might have trimmed scenes to make Thank You a better movie. Production values are good and you can witness them while watching the flick.
Verdict
On the whole, Thank You is an old school and outdated coming of age drama that fails to showcase any novelty. The pace is slow, scenes are dull and the emotions do not create any impact. The best part of the film is Chay Akkineni's sincere performance which is the saving grace.